This month I'm very busy with work and other personal issues, so you'll have to forgive my lack of activity in advance! Anyway, I just want to let you know that I am preparing a cool blog post about the tiki look – hopefully it will be up by the end of July!
Summer is that time of the year when you just want to look cute but comfortable at the same time. Living in a country with hot temperatures from June to September is really hard, especially for someone who adores wearing fancy clothes and dresses 24/7. I just picked my essential items for this time of the year. Easy to find, they'll blow your mind ❤
Polka dots

. Who doesn't love these? I am a huge fan. You can find them everywhere; from skirts to dresses and tops.
Shoreditch T-shirt from Kling (41$)
Vintage dress from HillSideStory on Etsy (51,13$)
Skirt from Modcloth (69.99$)
Tropical accessories

. Summer is my favourite season in terms of healthy food: Pineapple, Watermelon, Peaches…Best time of the year to channel my inner Carmen Miranda!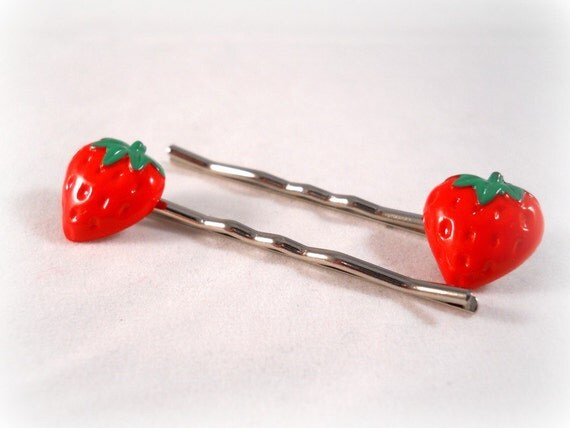 Strawberry Hair clips by Foreverandrea on Etsy (6$)
Juicy Necklace from Modcloth (24.99$)
Sun protection. It is very important to protect your skin from radiation, even If you don't go to the beach or it's cloudy where you are. Apart from sunscreen, it is always recommendable to bring your sunglasses everywhere. You don't know when the sun will come out. Parasols or head protection are also a thing.
Car Boogie Sunglasses from Modcloth (11.99$)
Sunglasses from American Apparel (40$)
Parasol from Modcloth (24.99$)
Shoes. Always walk in style. 
Cherry Pop shoes from Miss L Fire (115$)
Sandals from Zara (29.99€)