Valentine's Day is now over and it's time to get ready for Spring. As you may have noticed, brands such as Hell Bunny, Collectif Clothing and Pinup Girl Clothing have already launched – or at least given us a sneak peak – of their Spring/Summer 2017 collections.
Today I'd like to talk about t-shirts, a basic staple on every modern pin up girl's wardrobe. T-shirts are a must! Either styled with a pair of capris, denim trousers or even a pencil skirts, they are very versatile and help you achieve the classic rockabilly look everybody loves.
For those who love old school tattoos and cartoons, Mischief Made is the place to go. A California based japanese artist offers a great selection of tshirts and long sleeved tops with vintage inspired illustrations. She has also teamed up with vintage bloggers and influencers such as The Cherry Dollface, The Pink Collar Life and Junebug and Georgia Peaches. Available sizes: XS – 3XL. 
Atomic Swag is another favorite of mine. They 
have great designs inspired by US states, classic cars and vintage pop culture. All their designs are both for men and women, and come in sizes XS-2XL.
Instagram has become the best platform for illustrators to showcase their art. I've recently discovered interesting brands and artists that design t-shirts with vintage inspired illustrations.
TheOriginal Bad Girl,
from Australia, definitely have the best designs for bad girls. They sell tops perfect to channel your inner vixen, as well as t-shirts inspired in classic Hollywood starlets such as Jayne Mansfield.
Sveta Has, the creative behind some of The Original Bad Girl's best tshirts, has her own brand,
Flaming Mamie.
I instantly fell in love with her work when I discovered through Instagram. Her SS2017 designs look ace!
Clumsy Kate
is a British based designer of accessories, t-shirts and even brooches. Her designs take inspiration from exotic places such as Mexico. Sizes S-4XL.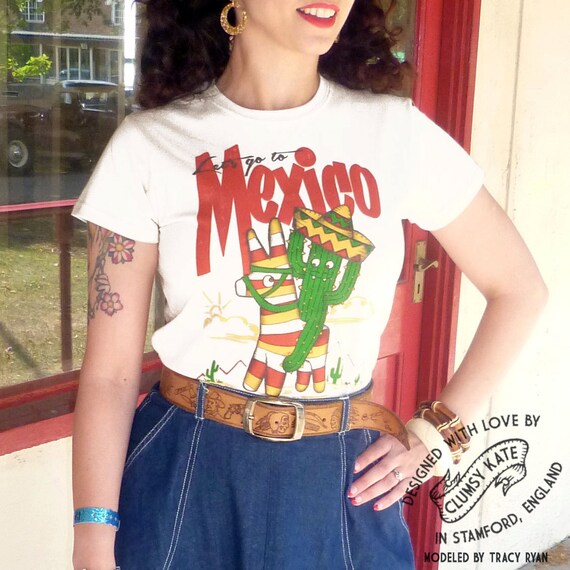 These are some of the t-shirt brands I've fallen in love with. Wish I had the money and space in my wardrobe to buy them all!